Party Supplies & Rentals
Are you looking for cool party supplies and rentals that will take a kid's birthday party from ordinary to extraordinary? Look no further. Here is a list of companies that will provide inflatables, dunk tanks, video games, mini-golf, pony rides, petting zoos, and more.
Do you provide awesome supplies and rentals for kids' birthday parties?
Learn about how you can be featured in our guide>
Showing results for Horsham, PA
Photo booths are fun for everyone. No matter how young, how silly or how reserved a person is they are bound to enjoy getting their photo taken in a photo booth. As behind the curtain they can be themselves, no matter what that is! We provide Photo Booth rentals for nearly any event you can think of. Here are just a few of the benefits included with every rental: (1) Send pictures directly to your
Show more...
mobile device; (2) Every person in the picture gets a photo strip instantly; (3) 4″x 6″ copies of favorite picture on strip instantly; (4) Scrapbook, DVD, & internet downloads included; (5) Unlimited sessions & video messages included; (5) Post photos directly to your social media from the booth. Pennsylvania Photo Booth prides itself on providing brand new state of the art equipment with the absolute best value and guaranteed lowest prices in the country. Contact us today! ...Show less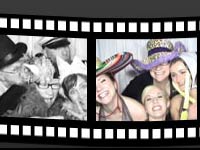 We at BuxMont Bouncers know you have a lot of choices when it comes to bouncer rentals. Safety is our #1 priority; we will always adhere to all state and safety organization regulations with every set up we do! Never worry about your child's safety again! We are proud to be the only bouncer rental company willing to guarantee that if we don't live up to your expectations we will refund a portion
Show more...
of your bouncer costs. We promise to always offer the lowest and most affordable rental prices out there. If not, we'll beat the other price by 10%! When you book with BuxMont Bouncers we offer you the peace of mind knowing that you will have a delivery window of 8 am to 1 pm for all bouncers. We'll even narrow that window down to within an hour for you 2 days before you event! BuxMont Bouncers carries a huge inventory, so we can make sure we always have exactly what you're looking for! ...Show less