Following the Film
6:15 - An upcoming zombie thriller by Bucks County native Ben Samuels
We're excited to bring you the latest updates on the movie 6:15 about a small cast of people at the onset of a zombie apocalypse and the emotional baggage they face. This movie, which was filmed in Bucks County, was written, directed and produced by Ben Samuels, a 2005 CB West graduate.



Update: September 17, 2015
6:15 just wrapped up a phenomenal panel at Pittsburgh Comic Con to a packed room of hungry Romero fans in the birthplace of zombie fandom! Next up, 6:15 has been selected as the Opening Night Film of LA's Shriekfest Film Festival at Raleigh Studios on Friday, October 2nd! The festival is LA's longest running horror festival.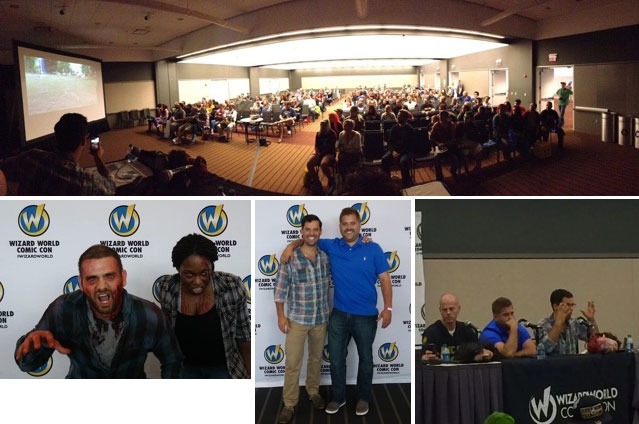 Update: AUGUST 24, 2015
6:15 is an Official Selection of this year's FirstGlance Philadelphia Film Fest! One of only five features selected, the film will screen at the Franklin Institute over the weekend of October 23rd. Click here for details >
Congratulations to Ben, Oliver and team!!!
Update: MARCH 12, 2015
We are pleased to share a long overdue update! 6:15 is nearing the end of post-production with a phenomenal sound design team, Racket Sound. An incredible collective of sound professionals, Racket works with everyone from Disney, Paramount, Warner Brothers, and 20th Century Fox to HBO and AMC. Check out their awesome work and credits, including the horror short Luna that they designed and that went on to win Screamfest's Best Short Film Award! http://www.racketsound.co/portfolio/luna/

Our incredible cast is also staying busy! 6:15 co-star and Bucks local Carol Anne Raffa can be seen in Episode 7 of Season 3 of House of Cards!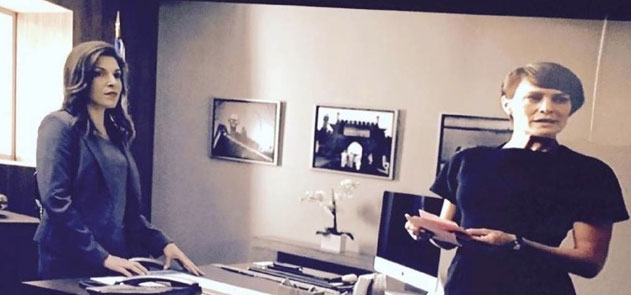 6:15 lead Rosebud Baker had a hilarious sketch on Huffington Post from comedian Kerry Coddett.
http://www.huffingtonpost.com/kerry-coddett/white-on-white-crime-an-u_b_6771878.html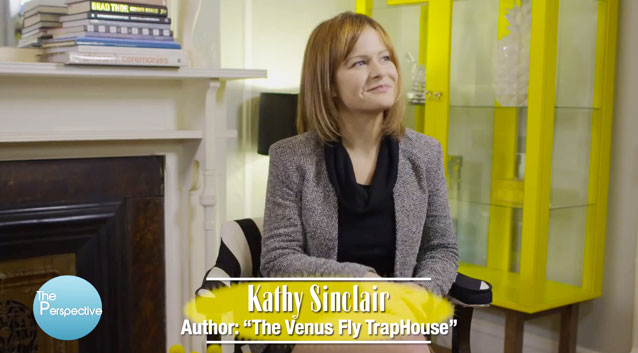 6:15 lead Amy Rutledge (center in photo) starred in the play Sleeping With Earrings On, that won 1st Place at the New York New Works Theater Festival and is now being adapted into a film directed by Miramax's "emerging filmmaker to watch" Jaclyn Gramigna.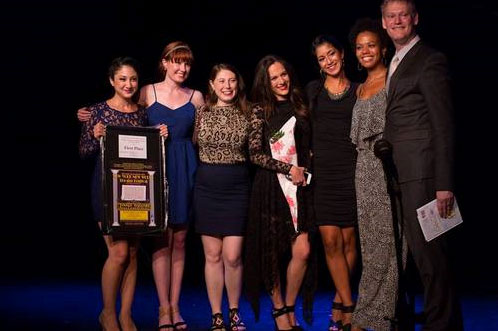 Update: November 21, 2014
Post-production continues apace, with great visual effects (VFX) work being done by Glowgun Studios, currently in Spain. Glowgun is the phenomenal company who did stellar VFX on Guillermo del Toro's HELLBOY, along with the HELLRAISER, THE HILLS HAVE EYES, and PROPHECY franchises.
The project is simultaneously gearing up for a round of pickup shots to complete the picture lock of the film and we are excited to share in the coming weeks which phenomenal local venue we'll be filming at! Needless to say, it's an impressive place that contributed greatly to this country's rich history of innovation and achievement.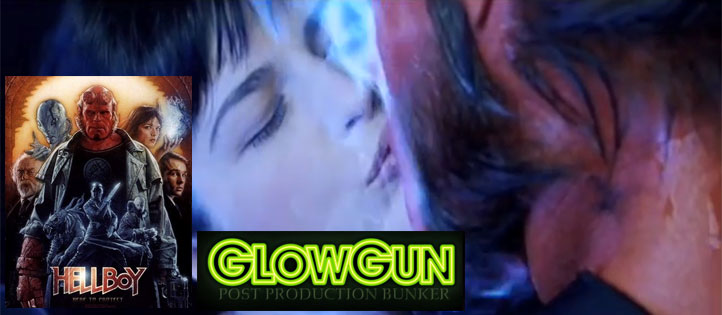 Update: September 17, 2014
With the cut locked, we are excited to move to the next phase of post-production. Get ready for a terrifying sound design!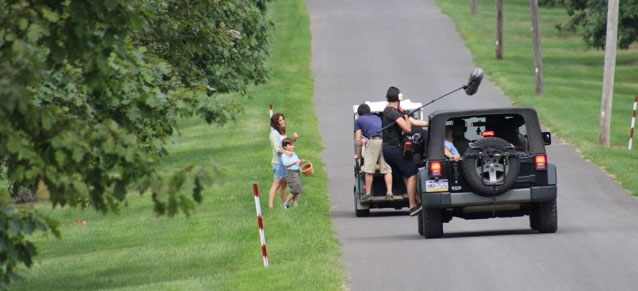 Update: September 4, 2014
With production wrapped, 6:15 is in post. The rough cut is already done!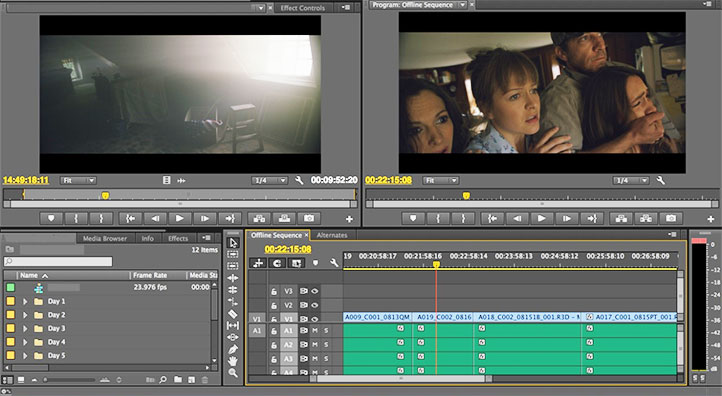 Update: AUGUST 25, 2014
6:15 has wrapped production! Two weeks of shooting yielded incredible results with a phenomenal team. It's our pleasure to share photos from set, with our talented local cast and crew. From car chases and building our own sets to terrifyingly good special effects and emotional turmoil (all in front of the camera!), it was one heck of a great ride.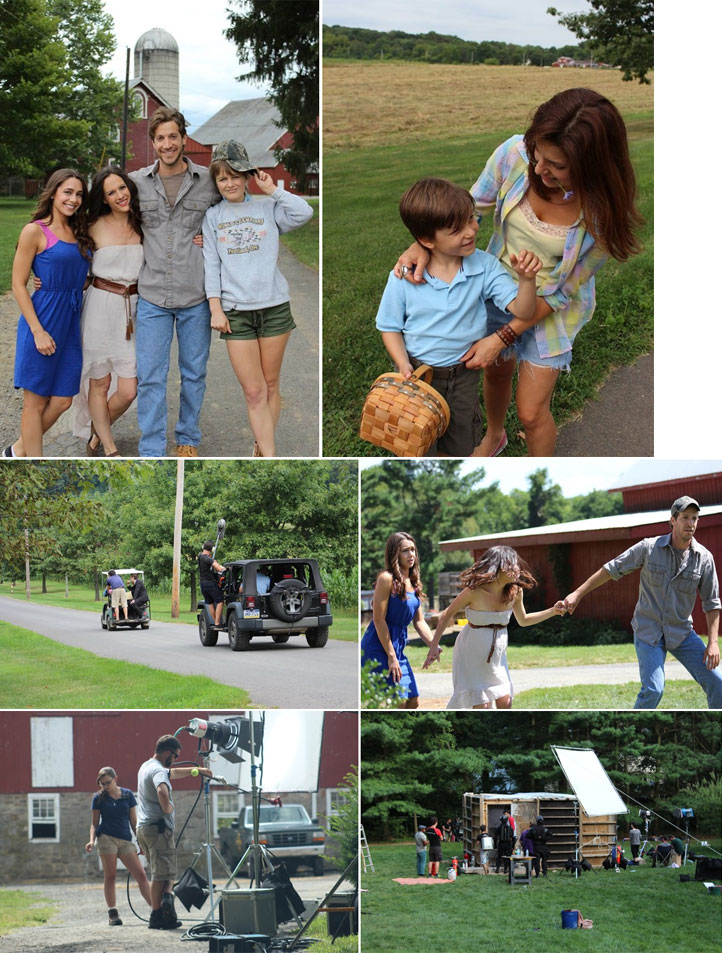 Update: AUGUST 15, 2014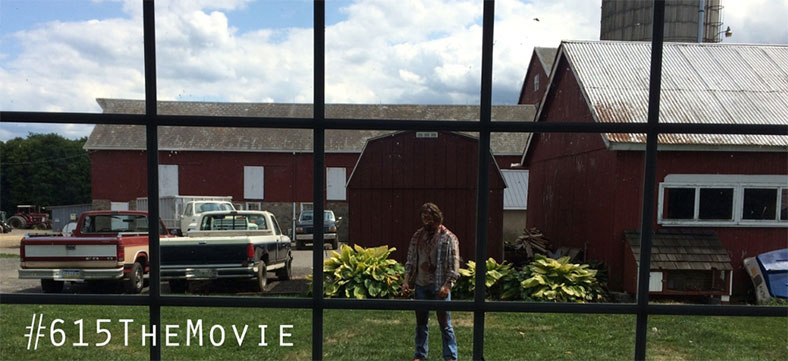 6:15 is almost done Week 1 of production! The zombies are taking over Bucks County...
Update: JuLY 30, 2014

With less than two weeks until production, the 6:15 team is hard at work. Tech scouting our locations has begun and excitment is building. Bucks County is an incredible community to make a film in! That said, what's a Bucks County film without a cornfield a la Shyamalan's SIGNS?
Update: AUGUST 12, 2014

Production has begun on 6:15! The first day of shooting was incredible, with the wonderful assistance of Doylestown's own BrickSimple LLC on site to fly their UAV in the film's opening sequence.
Update: JuLY 30, 2014

With less than two weeks until production, the 6:15 team is hard at work. Tech scouting our locations has begun and excitment is building. Bucks County is an incredible community to make a film in! That said, what's a Bucks County film without a cornfield a la Shyamalan's SIGNS?
Update: AUGUST 8, 2014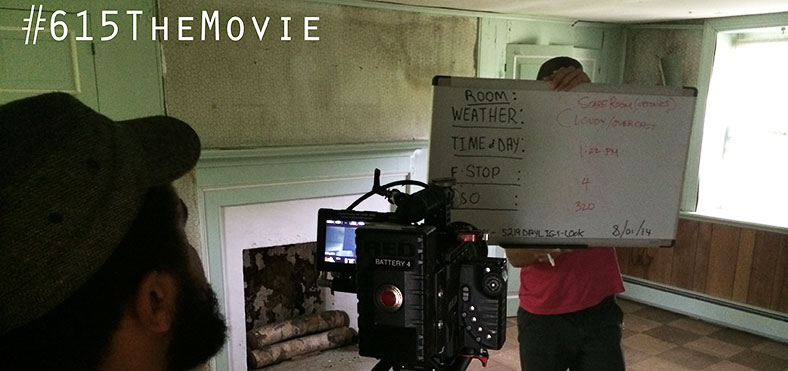 Actors start arriving tonight, giving the crew just enough time to squeeze in a few last camera and light tests! The rental truck is picked up and packed with equipment. Monday we start filming!
Update: JuLY 30, 2014

With less than two weeks until production, the 6:15 team is hard at work. Tech scouting our locations has begun and excitment is building. Bucks County is an incredible community to make a film in! That said, what's a Bucks County film without a cornfield a la Shyamalan's SIGNS?
Update: JuLY 24, 2014
| | |
| --- | --- |
| | Director of Photography John Rosario previously lensed for Ben on his debut professional feature, ASYLUM, and the Robert Englund thriller KANTEMIR. He leads an incredible camera team that will capture the terror of the Bucks County zombie invasion!. |
Update: JuLY 15, 2014
| | |
| --- | --- |
| | Matt Riker reteams with Ben for another great role! He previously starred in Ben's feature film debut, ASYLUM, and also appeared in the SPLINTER CELL: EXTINCTION series. He lives in LA, but is originally from Bucks County. |
Update: JuLY 14, 2014
| | |
| --- | --- |
| | Local powerhouse acting family and real life mother and son Carol Anne Raffa and Jonas Parker join the cast! Carol Anne was seen in episodes of HACK, POLITICAL ANIMALS, and DO NO HARM, and appears in the upcoming feature BAD BOYS CRAZY GIRLS, starring HAPPY ENDINGS' Adam Pally. Jonas just shot his first Comcast commercial! |
Update: JuLY 10, 2014
| | |
| --- | --- |
| | Rosebud Baker joins the cast! She stars in the upcoming horror thriller OCTOBER 30th with SIN CITY: A DAME TO KILL FOR's Holt Boggs. She also starred in the first season of SundanceTV's GIRLS WHO LIKE BOYS WHO LIKE BOYS. |
Update: June 26, 2014
The last two days have been phenomenal for the project. Pittsburgh-based special effects masters TolinFX came out to lifecast our actors for their zombie designs. Known for his incredible work on THE DARK KNIGHT RISES and JACK REACHER, Steve Tolin (pictured) collaborated with Ben on his Robert Englund thriller, KANTEMIR. We're overjoyed to welcome him back for another exciting project!




It's also our pleasure to introduce two more local Bucks County actors: Carol Anne Raffa (top) and Kaderra Robinson (bottom) join the ensemble!
Update: June 23, 2014
Thanks to our Bucks County auditions at Bobby Simone's Loft 52, generously publicized by a superb Intelligencer and Bucks County Courier Times article by Andy Vineberg, we were able to meet over 100 talented local actors and zombie lovers. With so many people to choose from, we are immensely grateful to everyone who came out and are proud to welcome our first round of local actors to the film. Meet our hometown stars!

Update: June 5, 2014
| | |
| --- | --- |
| | Amy Rutledge has joined the cast! Previously seen in the horror films NEIGHBOR and THE DEATH OF APRIL, she is joining a superb team. |
Update: MAY 21, 2014
We are immensely excited to share that multi-Barrymore Award winner Peter DeLaurier has joined the cast. Recently seen in Lantern Theater Company's production of Athol Fugard's THE TRAIN DRIVER, Peter is an Artistic Associate of the People's Light & Theater Company and co-founded the Delaware Theatre Company and First Stage.


For more information, visit: http://peopleslight.org/member/peter-delaurier
Update: MAY 13, 2014
| | |
| --- | --- |
| | We are thrilled to announce the casting of Bucks County native Montana Marks! Recently seen in CAMP DREAD, starring Eric Roberts, Montana joins an incredible ensemble that will bring this exciting project to life. |
Update: MAY 7, 2014
With auditions behind us, we have completed callbacks for our principle roles and will be making decisions over the weekend. Other roles, including a bevy of essential local roles, will be filled soon after. Stop by regularly for cast updates starting next week!
In the meantime, we had the pleasure of meeting with the Greater Philadelphia Film Office, who are instrumental in bringing films to our wonderful state and assist productions in securing the tax credit that helps make us competitive as a production hub. Visit http://www.film.org/ for more information.
Update: April 29, 2014
After auditions in NYC last Wednesday and a phenomenal day in Philly and Doylestown on Thursday, we have some incredible talent to consider for our lead and supporting roles. Over 100 people lined up around the block at Bobby Simone's and we were excited to see everyone bring their best zombie walk and horror scream! Stay tuned for casting updates. Coming soon!
Update: April 25, 2014
Great auditions in Doylestown yesterday! It was fun to hear zombie screams while walking past Bobby Simone's!
Update: April 22, 2014
Auditions for 6:15 will be held at Bobby Simone's on Thursday, April 24th from 3-5pm (suggested arrival time: 2:20pm). Click here for casting info >

Update: April 16, 2014
Thanks to local investors, 6:15 is funded and scheduled to shoot locally this August! Audition notices are out, with casting sessions next Wednesday and Thursday in New York and Philadelphia respectively. Thursday afternoon, there will also be a special audition session for local talent at Bobby Simone's in Doylestown. Special thanks to Bobby for supporting a local film! It was just a few years ago, that the Bucks Fever Film Fest had director Ben Samuels in Bobby's Loft 52 as a guest speaker a year after winning Best in Fest. More updates to come soon!
About Ben Samuels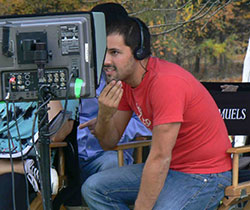 Ben was raised in Doylestown, where he began making VHS backyard movies in fifth grade. He attended Tufts University and the British American Drama Academy. As a junior at Tufts, Ben returned to Bucks County to shoot a World War II feature with 300 local reenactors and a dozen armored vehicles. The film went on to win multiple festival awards and a shortened version, BROTHERS IN ARMS, won Best of Fest at the Bucks Fever Film Fest. The feature screened to a packed house at the County Theater.
After graduating, Ben made a microbudget horror feature in eight days. Traveling to LA, he screened the film and it was acquired by the Vice President of genre legend Clive Barker's Seraphim Films and the producer of horror hits including: DREAD, MIDNIGHT MEAT TRAIN, and BOOK OF BLOOD.
Ben quickly booked his next gig, directing the psychological thriller KANTEMIR, starring Robert Englund. A movie icon made famous by his role as Freddy Krueger in Wes Craven's incredibly successful NIGHTMARE ON ELM STREET franchise, Englund delivered one of his greatest performances to date. The film was produced by Jamie Kennedy Entertainment and is being distributed by Archstone Distribution.
Currently, Ben is prepping his next thriller to shoot in Doylestown this August. His dream since moving to Los Angeles has been to bring a film back to the town that inspired and supported his growth as a filmmaker.
If you would like to be involved, please feel free to contact Ben through his website: www.bensamuels.com. Also feel free to follow him on Facebook (facebook.com/bensamuelsfilm) and Twitter (twitter.com/bensamuels1).